Written by Applications Engineer Craig Crossley
Design validation for injection molded parts is often overlooked due to pricing and lead time for prototype tooling and high-quality prototypes. Oftentimes companies do not have an extra three to four months to iterate and tool up their product designs multiple times to achieve the greatest results. This blog post will discuss the pitfalls of improper design validation and the quick and affordable solution to improve the design validation process.
The Importance of Design Validation for Injection Molds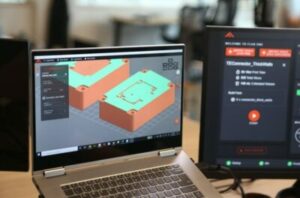 The process to design a mold requires expertise, simulation, compromises, and eventually some guesswork. Procuring a tool is costly and time-consuming so companies emphasize getting it right on the first try. However, it is very common that things slip through the cracks and designs need to change, costing thousands in lost time and tooling rework.
The pressure to be perfect on the first try leads to inferior part designs, tools with major issues, and extremely frustrated manufacturing teams. The solution for many is to order aluminum tooling, order 5000 parts, and hope that they behave and look the way they want. Most companies only need 25-500 parts to actually do their testing, but because of cost and minimum order quantity, they are forced to spend a lot more money and get saddled with a mold that is optimal. 
The Benefits of End-Use Material in Rapid Prototyping
The largest benefit to getting injection molded prototypes is that you are able to validate the part function with the molding DFM in place and in the material intended for full-scale production. 3D printing can get an approximation of the design, but the function is completely different due to the inability to successfully mimic the isotropic properties of molded parts using FDM technology. There are ways to use SLA/DLP to get more isotropic materials, however, if the part is going to be molded at some point, then getting prototypes in different material are not all that helpful. 
For example, in the medical device industry, the ability to prototype in the end-use resin isn't only a "nice to have " benefit, it is a necessity. Medical grade resins are available for injection molding and Fortify tooling is able to handle all of them from TPE to Carbon Fiber reinforced PEEK. 
Expert Tips For Improving Design Validation Processes
To avoid the pitfalls of adding to project timelines by skipping the prototype phase, or using a 3D-printed prototype, follow these three expert tips: 
1. Confirm the look and feel of your part
Successful parts not only perform the way the designer intended, they need to look and feel correctly too. 
2. Select the production material
There are thousands of grades of each type of resin, so choosing the correct one for your application can be a daunting task. Simulations can help to narrow it down, but getting your part in multiple materials before deciding on one can help to maximize the success of your project. 
3. Validate the function of your part
The most important piece of the design cycle is to make sure that the part performs as you intend. Whether it is a living hinge, fitting into an assembly, or performing under high loads, confirming that your design and material will fulfill these needs is paramount. 
The only way to make sure that all three of these needs are met is to get injection molded parts. 3D printed injection mold tooling is a simple solution that avoids the high lead times and cost, yet still allows for validation of tooling design, part design, and part function in the end-use plastic.
Get Quick Turn Molded Parts Fast with Fortify's AM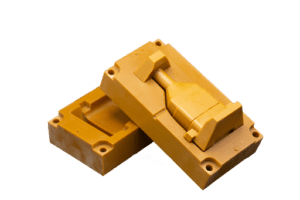 Leveraging 3D printed tooling allows for all of the above to get done in a three-day turnaround time, which gives part designers the freedom to change what they want, as drastically as they want. Not only can part designers make fast changes for a low cost, tooling engineers can get the bulk of their mold design done, weeks before they ever have to worry about the production tooling. Allowing these designers to validate their processes will give the manufacturing team confidence that the part and mold will run smoothly once the final production of the parts starts. 
Ordering parts or molds through Fortify's injection molding services is a simple and fast process. Parts can be uploaded through the website and in as little as 2 weeks molded parts or a mold tool can be delivered. With a CM partner network, in-house molding capabilities and a dedicated molding team, Fortify is poised to be a DFM, mold design and injection molding processing partner. 
Case Study: Rapid Medical Design Validation in Response to COVID-19
In this medical device case study, designers needed to quickly validate the functionality of a part in an oxygen-rich environment. This meant the part needed to be in the end-use material (polypropylene in this case), for functional testing before investing in the time and money of production tooling. Download the full case study at this link.
Ask a Fortify Expert How You Can Improve Your Design Validation Processes
Chat with a Fortify expert today to learn how to improve your design validation process with 3D printed tooling.