While visiting an event like Rapid + TCT it is easy to see the messaging writ large at many of the booths with 'machines 100 times faster' (than what? must have been in the small print somewhere) or '20% more build volume' (ok?) and materials that are 'twice as strong' or 'twice as light'. The really interesting developments aren't always shouted out as bold typeface booth graphics are a little more nuanced, often application-specific, and well, are material properties. 
The material properties that have evolved over the past few years have made additive manufacturing capable of highly performant components for both manufacturing aids and end-use applications.
The increase in speed of machines and larger build volumes can open up more potential business applications for additive manufacturing, however, it is often the material properties that really seal the deal.
At the Fortify booth, the story was much the same. People were initially asking about the FLUX series DLP composite 3D printers and wanted to understand how the magnetic orientation of the composites in the resin work and what it means to be able to print in high viscosity materials. Ultimately, it quickly started to dawn on them what this means for, you guessed it, material properties.
For example, developed in collaboration with Rogers Corporation,  RadixTM is a low-loss dielectric material.  It is optimized for devices used in wide bandwidth, high-frequency communication, and sensing systems, tailored for microwave and mmWave applications. The decoy drone on display at the booth, whose combination of Luneberg-style lens, Radix wave guiding material properties, and gyroid dome make a small drone look much, much bigger to enemy radar. 
In fact, the business case isn't so much the speed of building a component such as this, which was only five hours, but rather the material properties and the design freedom enabled by AM (a tuned, large surface area Gryroid in this instance) that are critical to making the case.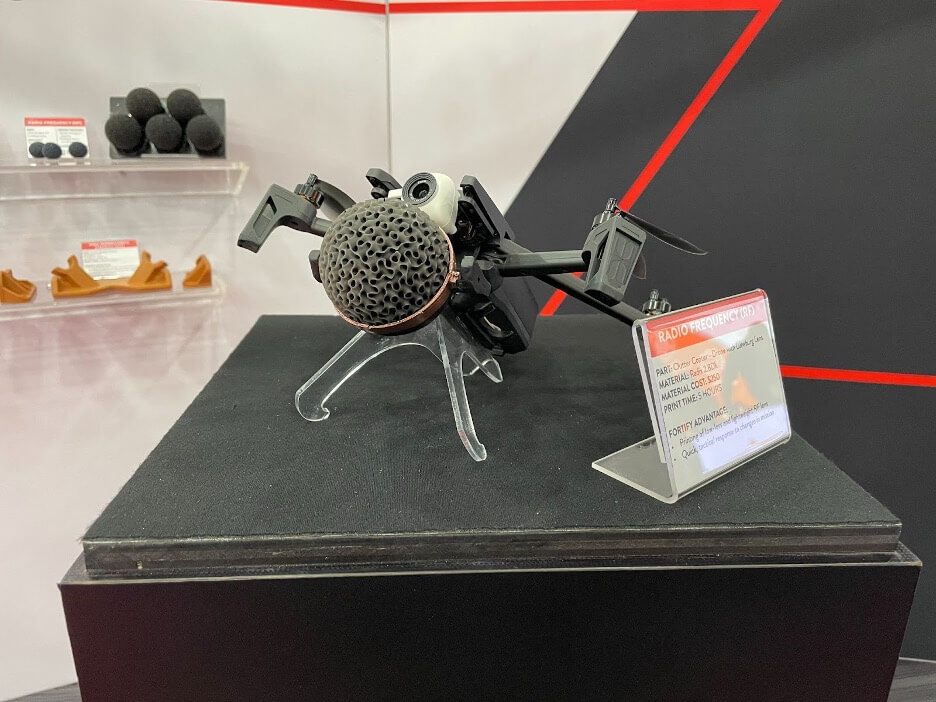 Clutter Copter Drone with Luneberg Lens
HTS, a high temperature & high strength material (yes, it is stronger AND hotter) can handle temperatures up to 300 c with a tensile strength of 90 MPa opens up use cases that might otherwise use machined Aluminum or PEEK FDM. The ability to get PEEK performance from a photopolymer with superior surface quality, fatigue, and wear resistance was of interest in a number of manufacturing and end-use applications such as welding fixtures that cost 10% of the cost of an Aluminum machined part and can withstand temperatures beyond any other 3D printed polymer without thermal distortion.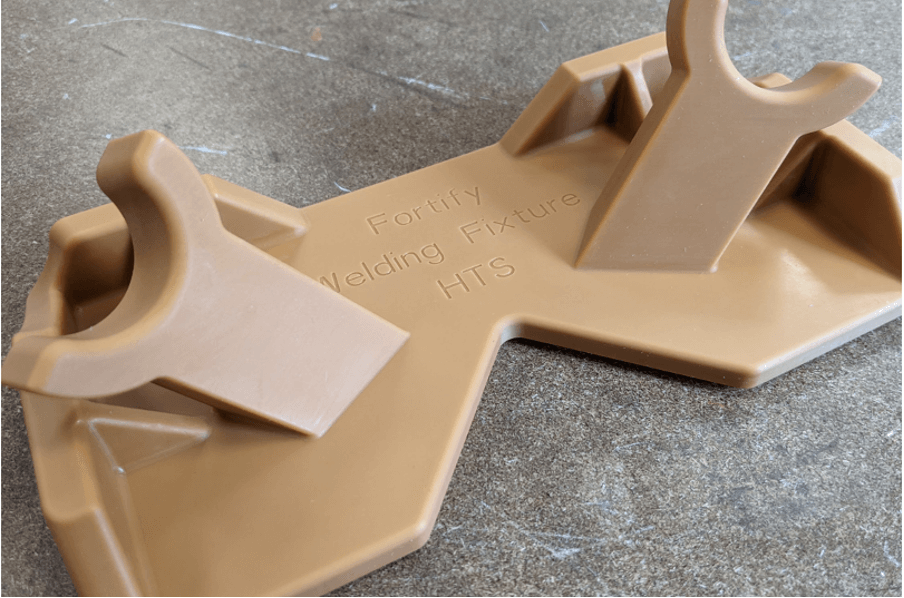 Welding fixture printed in Fortify's new HTS material
3D printing of short-run injection molds out of metals has been a slow-growing application for the past several years due to the high cost of the metal printing process, and the need to also machine both the mold and interface surface to provide a suitable roughness. 
The introduction of ceramic fiber-reinforced photopolymer capable of withstanding up to 300°c at 0.455 MPa along with a DLP surface finish means the 3D printed short-run injection molds for prototyping in end-use polymers is now financially viable. Even hard-wearing materials g on molds such as Polycarbonate and Ultem are possible thanks again to the material properties of Fortify's Digital Tooling material.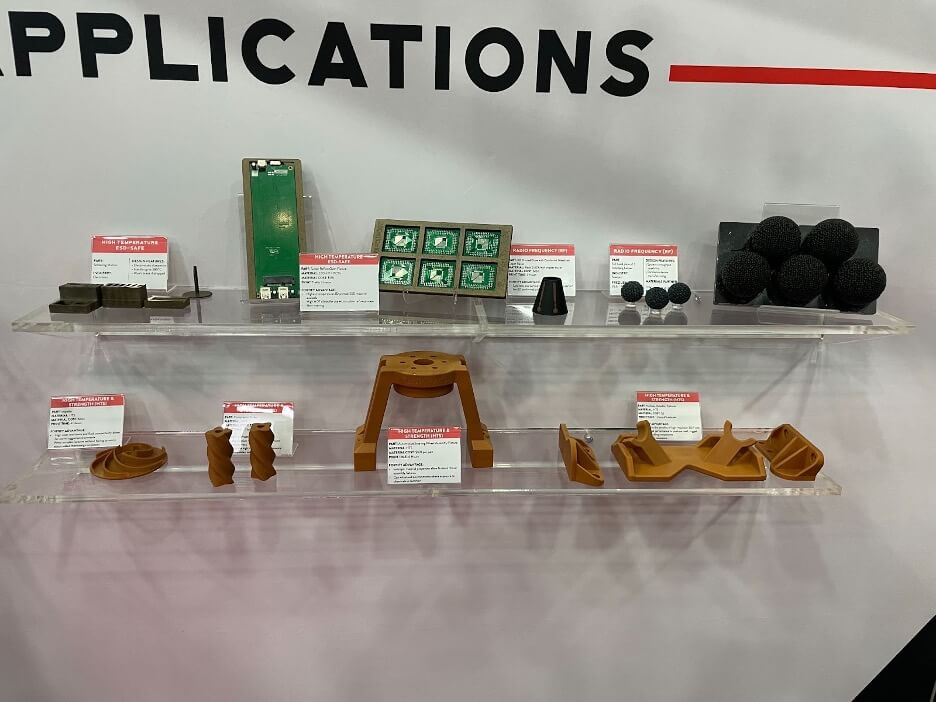 Part of Fortify's display wall at Rapid 2022 featuring ESD-HT, Radix™, and HTS
So too with Fortify's Boston-based neighbors at Inkbit, their high-volume throughput, vision-controlled jetting system (VCJ) uses AI to compensate every layer in real-time to ensure the perfect print. 
It is the material properties that are enabled by the proprietary architecture of their system allowing them to produce highly precise parts with no thermal warping and a UV stable photopolymer.
These materials' properties open up applications where thermal, chemical and UV stability are critical and need to be produced at volume. The Vista system is a multi-material system that uses a wax support material that is easily melted out enabling fine internal channels with smooth surface properties suitable for hydraulic and chemical processing applications where harsh chemical cleaning and autoclaving are required.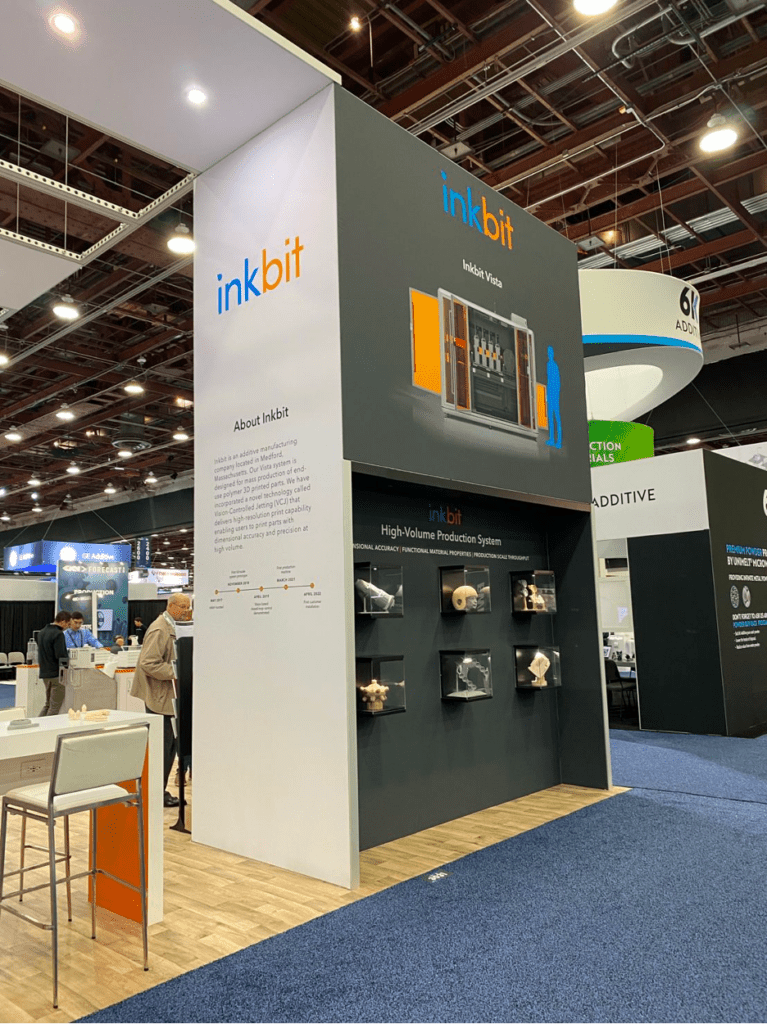 Inkbit booth display at Rapid 2022
As you walk from booth to booth at Rapid, it is easy to be wowed by the ever-evolving, sophisticated designs like the aerospike rocket designed by Josefine Lissner of Hyperganic with their software on show at the EOS booth. The geometries were 100% driven by constraints with not a single sketch, extrusion, or curve drawn by a human. 
The resultant part actually looks alien, not like the typical 'bird bones' often thrown up by topology optimization or generative design, but something never seen in nature because nature never intended to propel an object into space at 4,500 meters per second (OK, volcanoes are close but to my understanding have not expelled an object beyond the stratosphere). 
Yet even this design was enabled by the same material properties that allow engineers to tune a laser for solidifying metal powder with one laser pass and have a functional wall capable of being used as a heat exchanger. There is always an interplay between software, hardware, and materials that make all advanced manufacturing possible but again, the high-performance material properties make the design truly functional.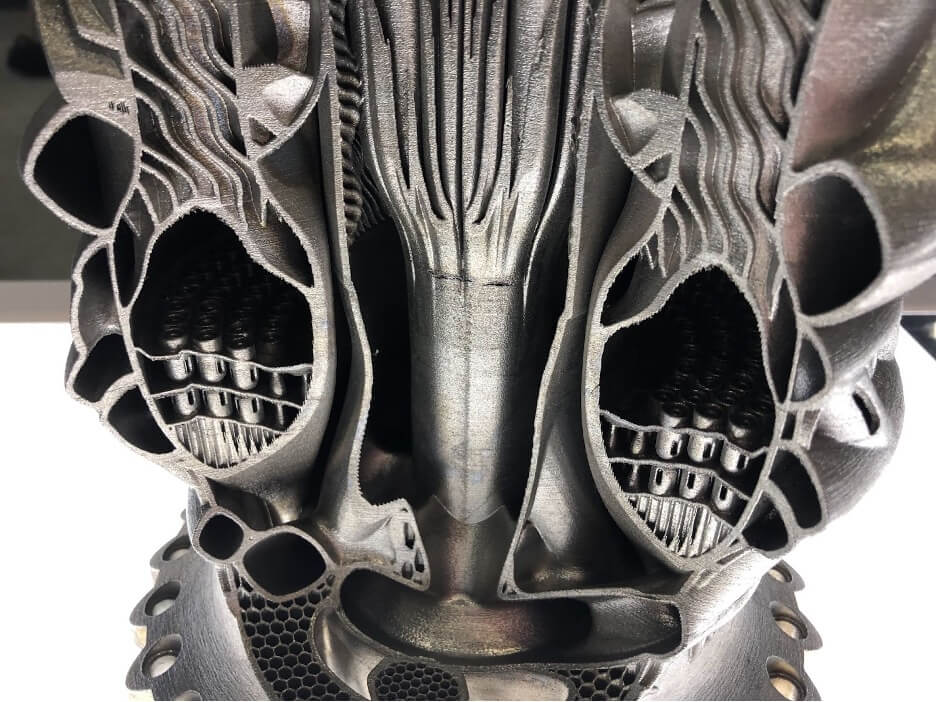 Aerospike rocket designed by Josefine Lissner of Hypergranic. Geometries were 100% driving by constraints – no sketch, extrusions or curve drawn by a human.
Large Material companies like Braskem, America's largest producer of polyolefins and biopolymers entered the additive manufacturing market for the first time with Polyethylene and Glass Fiber Reinforced Polypropylene 3D Printing filaments. A sign that as with Covestro, Arkema, Henkel, Carpenter and Lehvos, established material companies who have invested the time in bringing part of their massive material portfolio to additive manufacturing, along with the time and effort to exhibit at Rapid in 2022.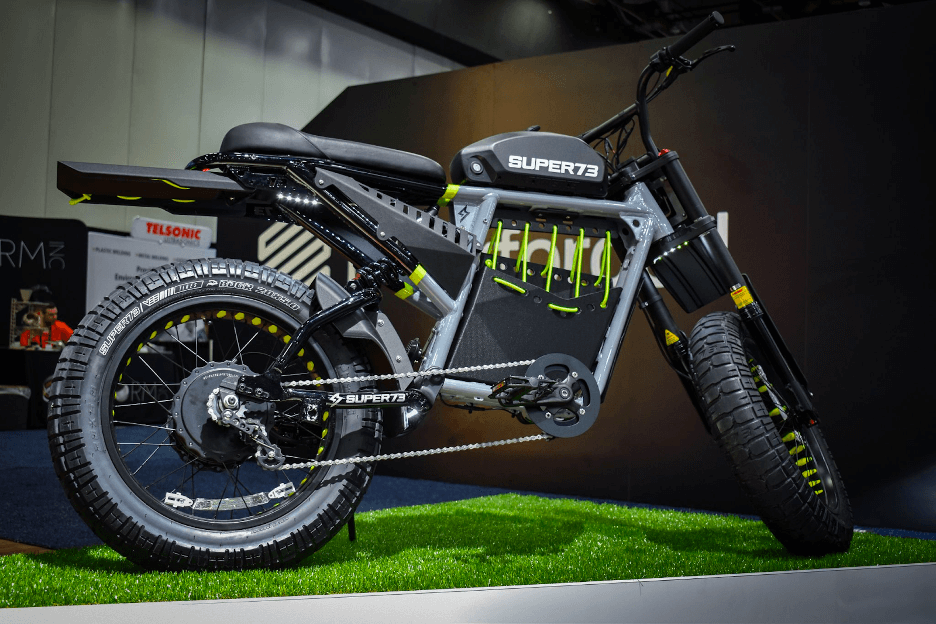 Super73 bike displayed at the Braskem booth at Rapid 2022 features parts printed with some of their materials.
Of course, it is great to be able to manufacture components with all of these new and ever-improving material properties but how do we know we are achieving these properties throughout the volume of a part, especially if the design is complex and/or has multi materials whether printed or coated? 
Enter Lumafield.
Lumafield has developed a low-cost CT scanner to look at, yep, material properties within a part, whether they are injection molded, 3D printed, or, naturally occurring.
The Neptune 3D scanner and Voyager software was one of the more interesting new developments to be shown for the first time at Rapid this year. Being in stealth for the past few years and teasing their capabilities with their thinly veiled scan of the month project, it was really interesting to see the capability in person, to look inside a part and see not only the surface, but also the material properties within a part and even the interface between materials within a part.
The ability to have very fast feedback from design, to print, to volumetric scan allows engineers to have a faster feedback loop for iteration and design improvement.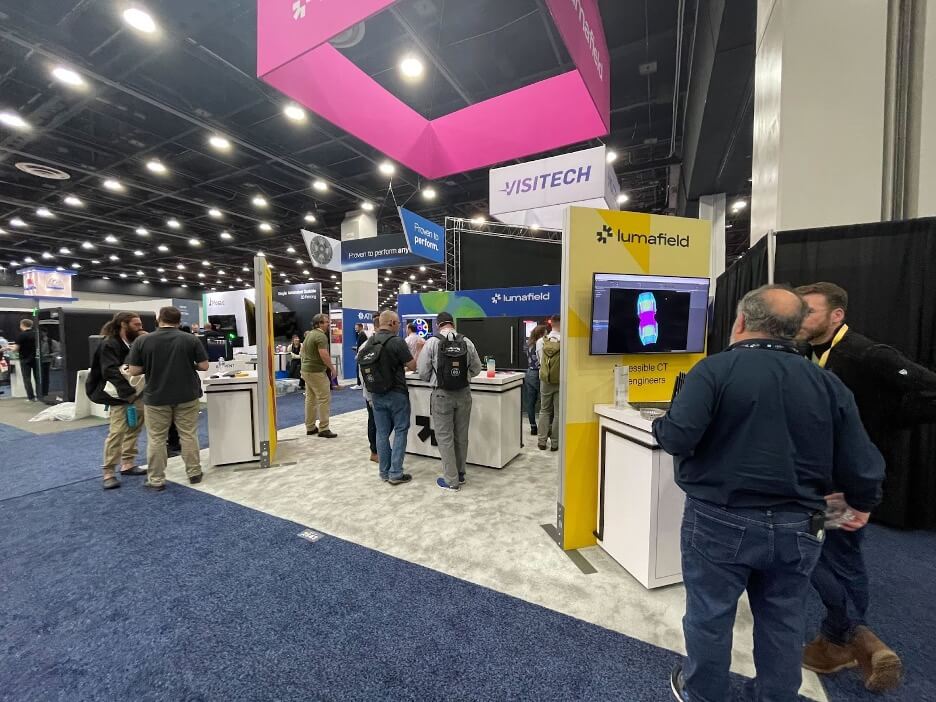 Lumafield booth at Rapid 2022.
Imagine designing an injection molded component that includes over-molding and a friction welded insert. You could print both molds with Fortify's Digital Tooling material, injection mold the components in both materials and test the friction welded insert, CT scan the design that very same day to inspect for proper continuous adhesion of materials and depth of friction weld, and share the results with your production engineers anywhere around the world instantly.
So what can we expect next year? 
A greater proliferation of highly performant materials enabled by the development of manufacturing systems such as Fortify whose years of R&D have created machines built from the ground up for the production of high-value components at a relatively low cost.
Will it be 100x faster and 20% bigger next year? It probably doesn't really need to, but be sure to visit the booth next year just in case.
Until then, get in touch with the team to discuss your potential applications.