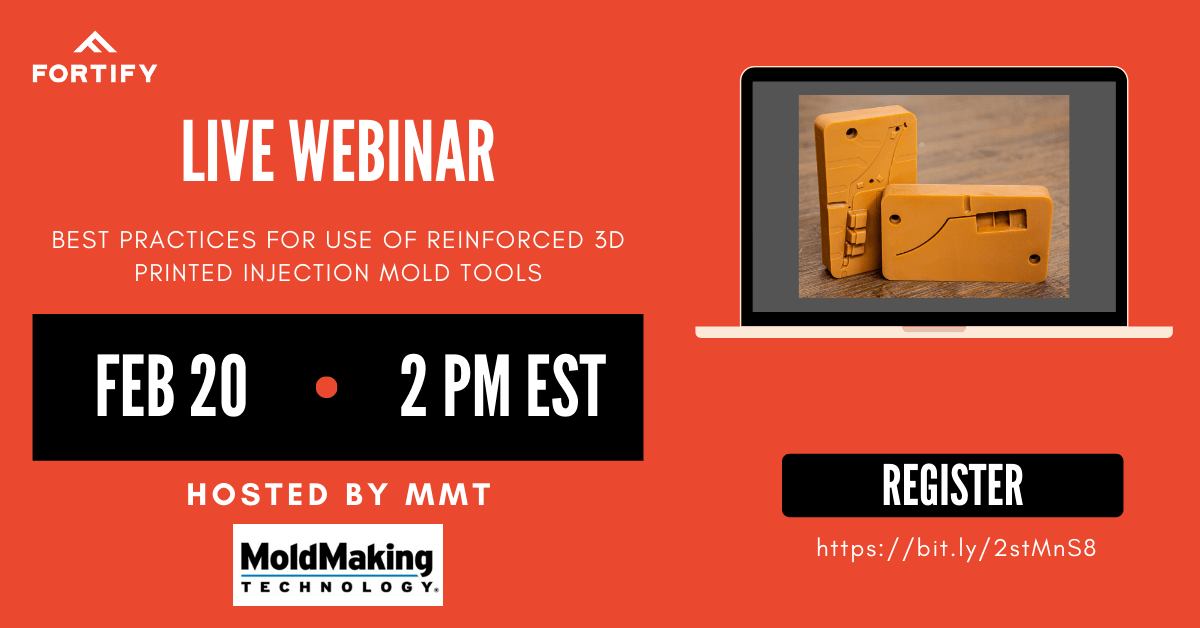 Join Fortify for a Live Webinar hosted by MMT on Best Practices for Use of Reinforced 3D Printed Injection Mold Tools
Machined aluminum has been the standard approach for prototype and low volume injection molds. While this saves time and money compared to steel tools, they are costly and slow to produce. 3D printed tools can combat price and long lead times, but testing over the past decade has shown that printed tools are not robust enough. By introducing reinforcing fibers in 3D printed parts, Fortify is able to print tools with an increase in strength, stiffness, and HDT. This webinar will review best practices for designing, machining, and running 3D printed injection mold tools to reliably support prototype and low-volume production runs.
Primary Topics:
• Best practices for designing reinforced 3D printed tools
• Business opportunities accessible using 3D printed injection mold inserts
• Operating differences between printed tools vs. metal
Presenters:
Ben Arnold VP Business Development, Fortify
Ben Arnold leads Fortify's Sales and Marketing efforts as the VP of Business Development. Ben joined the 3D printing industry in 2006 and has been on the forefront of several industry innovations. Ben brings this experience to Fortify working with customers to identify key applications for Digital Composite Manufacturing.
John Eastham President, Ideal Systems
John Eastham is the President of IDEAL Systems, providing Consulting Services & Technical Sales for the Plastics Industry. John leverages his 25+ years of engineering & operations experience at custom injection molding companies and mold builders to provide manufacturing solutions to his clients.