Trevor Polidore, New Product Development Group Leader, at Rogers Corporation spent some time with us to talk about how he's worked closely with Fortify to build out our partnership, why he thinks our partnership is so groundbreaking, and where he sees it propelling the RF industry.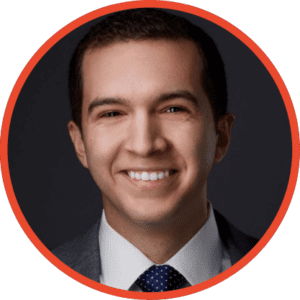 Tell us a little bit about your background and role at Rogers?
I went to Northeastern University with an undergraduate in chemical engineering with a focus on materials science. I interned at Rogers Corporation and soon joined their product development organization. That's where I started my career in material science and have been doing material development for RF applications ever since.
Currently, I am a New Product Development Group Leader at Rogers. I've spent about seven years here. Today, my position is to bring new platforms to market for Rogers, incubate new ideas, bring them through the new product development cycle and launch them as new product lines for Rogers. Right now, I am mainly focusing on additive manufacturing (AM) with our new RadixTM printable dielectric materials.
What are some key application areas in the RF and microwave industry where Additive Manufacturing makes the most difference and why?
I think gradient dielectric structures or varying dielectric constant structures have been underutilized in applications within the RF component industry simply because there has been no decent or economical way to make parts like that.
The earliest applications that will adopt AM for RF are ones where you need freedom to change the material properties in three dimensions and there's been a lot of activity in that space. In areas such as lens antennas and variable permittivity substrates, where the ability to tailor dielectric constant throughout space has been recognized as valuable, there has been no viable way to manufacture it until AM offered good materials with RF performance.
What was the process like for vetting 3D printing partners and what led Rogers to choose to work with Fortify?
What we are looking for in 3D printing partners are companies with technical capabilities that align well with the RF industry, and groups who are building systems and thinking about properties that are relevant to RF components. For example, properties like surface finish for components are extremely important to the RF industry. With Fortify working on their mold tooling we knew they understood the importance of surface finish for that application, and they have thought about how to position their system to service that in addition to printing with high-performance composite materials.
At Rogers, most of our laminates are composite materials that are either woven-glass reinforced or particulate ceramic reinforced and there weren't many companies out there thinking about printing composite materials. Fortify has its systems positioned to print with the types of materials and the types of properties which are relevant to our industry. It was a natural match, and the technical capabilities were far beyond other printer manufacturers because they were thinking about the top of the pyramid in terms of high-performance materials and high-performance part characteristics. Through our mutual Northeastern University connections, we met early on, and both of us understood that there was a gap for 3D printing systems that are focused on composite materials and that's what we were trying to bring to market, so it was a natural fit. It's been a great partnership.
Can you tell us what you envision short-term vs long-term when it comes to Additive Manufacturing and the RF and microwave industry?
 For the near-term, AM will have a big impact on groups who are already designing and are working with geometrically complex components such as gradient index lens antenna systems, 3D dielectric elements, three-dimensional substrates for conformal antennas, and volumetric three-dimensional circuits.
I think longer term, engineers will more fully understand the ability to create these structures and take advantage of the full three-dimensional design freedom, utilizing a variety of AM RF materials and constructions to solve their system-level challenges. So long-term we are going to see new application spaces that people haven't been working on today since there has been no way to change the effective permittivity or do things like creating very complex structures that can't be made with machining and molding dielectric components.
What excites you most about Radix 3D Dielectrics and what's going on with Fortify?
I think we are playing in a really great position together to unlock totally new components that are new to the world. Typically, we see that 3D printing shows its value and advantage with prototyping and mass customization and things like that. For us, while we appreciate and know those are fantastic and valuable, I'm most excited about how we are seeing engineers think about things they never thought about before due to the technology that we bring to the market together.
This free-form fabrication technique of low-loss materials can do so many things you couldn't do otherwise. Seeing engineers' brains click and think of something new and cool that they've been trying to solve for decades – that's an awesome position to be in. We don't take that for granted, it's going to take a lot of support and nurturing but that's what we're building out and we're investing a lot to be sure this platform can deliver on those totally new components.
In an ideal world, where do you see this a year from now and five years from now?
I think a year from now we will have a handful of customers that have field-tested components and built around this technology. We will have validated the scalability and the economics for these applications, and we will be producing parts for significantly large programs.
I think five years down the road we will have a suite of material offerings, we will have dozens if not hundreds of RF engineers thinking with a Radix 3D Dielectric-first approach to solving their problems where they are not constrained to planar PCB materials or molding and machining. They will be thinking about designing their components with an additive manufacturing capability first. This is pretty amazing. Rogers and Fortify bring the solution together building out the capability. We will have an end-to-end manufacturing workflow to take those designs that customers work on down the road and deliver the capability to service large manufacturing projects.
The information herein is provided "AS-IS" and is not intended to and does not create any warranties express or implied. Rogers does not warrant the accuracy, or completeness of the information, text, graphics, software, calculators, links or other items contained on in this blog or the website where it is posted.
Safe Harbor Statement
This blog may contain forward-looking statements, which may concern our plans, objectives, outlook, goals, strategies, future events, future net sales or performance, capital expenditures, financing needs, future restructuring, plans, or intentions relating to expansions, business trends and other information that is not historical information. All forward-looking statements are based upon information available to us on the date of this release and are subject to risks, uncertainties, and other factors, many of which are outside of our control, which could cause actual results to differ materially from the results discussed in the forward-looking statements. business. For additional information about the risks, uncertainties and other factors that may affect Rogers Corporation, please see our most recent annual report on Form 10-K and any subsequent quarterly reports on Forms 10-Q filed with the Securities and Exchange Commission. Rogers Corporation assumes no responsibility to update any forward-looking statements contained herein except as required by law.