Written by Senior Applications Engineer Ben MacDonald
While less than 1% of all cars on the road today are fully electric, it's no secret that electric vehicles are coming and coming fast. In the not-too-distant future, a majority of vehicles on US roads will be electric. In order to support that future, an enormous shift will need to happen among automotive manufacturers. To meet demand, manufacturers will have to redevelop entire lines of vehicles, not just a single model or two. This kind of development effort in the automotive industry is unprecedented and in order for it to be successful new technologies will need to be leveraged. 
To survive the shift automotive companies will need to adopt more efficient and cost-effective processes for development. One such method is rapid injection molding. This blog post will review the challenges with product development in the hyper-competitive automotive industry and provide solutions to remain competitive.
Explaining the Rise of Electrification in the Automotive Industry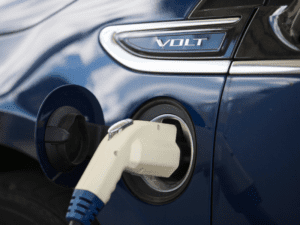 Electric vehicles have been in various phases of development and production for years and recently has been kicked into hyperspeed on the back of key policy decisions by states and the federal government. The US has plans to be net zero in emissions by 2050, a goal that hinges on the ability to clean up the fleet of vehicles on the roads. Even more pressing is the law recently passed by California requiring all vehicle sales starting in 2035 to be zero-emissions vehicles. 
Since the news of these two regulations has broken, sales of both electric vehicles and electrified vehicles have seen quarter-over-quarter growth currently up to 5.6% and 12.6% respectively. These types of regulations show no signs of slowing down. This means that it is more important than ever for new and existing auto manufacturers to double down on the development of electric vehicles to meet this demand.
Breaking Down the Challenges in Testing EV Prototype Parts
With the rise in electrification comes a rise in vehicle development. The transition to electric vehicles isn't as simple as swapping out a combustion engine for a battery-powered motor. Everything from the frame to the entire powertrain and even the interior of the car needs to be redefined and redesigned. An entirely new vehicle model in the automotive industry requires an immense amount of development work to ensure that each vehicle will function as intended for years to come. 
Using Ford as an example, excluding EVs, they released the Ford Maverick in 2022 and the Ford Bronco in 2021. Prior to those two model releases the next most recent model release was in 2006 with the Ford Edge. In short, new model releases don't happen frequently. Yet, this is exactly what will need to happen to electrify an entire fleet of US vehicles. All of this development work will accentuate the key barriers to vehicle development in the automotive industry. Long lead times and high tooling costs are the two primary reasons why it's so challenging to develop EV prototype parts quickly.
1. Long Lead Times
The long lead times associated with tooling is a major hurdle for vehicle development. In the past lead times have been around 4-6 weeks for a small batch of molded parts. Today that number has ballooned to around 3-4 months. This drastic increase in lead times can be attributed to both supply chain uncertainty and a lack of skilled toolmakers, both of which are here to stay. 
The vehicle development cycle has a pretty fixed timeline of 2-5 years. This may seem like a long time, but when two iterations of a part can take up to six months, five years can go by incredibly fast. These long lead times can prevent proper iterations, turning optimal designs into just "good enough" to meet a deadline. Alternatively, these lead times may cause engineers to miss deadlines altogether which is unacceptable in today's extremely competitive automotive industry.
2. High Tooling Costs
Nearly all of the plastic components within a car will end up as injection molded parts by the time the vehicle is rolling off the production line. Unfortunately, the same cannot be said during the development process. High tooling costs typically force automotive manufacturers to turn to different technologies to produce limited quantities of parts prior to entering production. At scale, injection molding is a cheap solution, but for prototype quantities, the cost can be much tougher to justify. Mold tools typically cost tens of thousands of dollars due to the necessary inputs needed to produce them. Expensive machinery and a limited supply of mold makers have led to exorbitant mold tool costs. 
These tooling costs lead to a host of tradeoffs and problems for the engineers developing vehicles. In a perfect world, engineers would be able to prototype part geometries with the production process, allowing them to refine both the part and the process during development. Due to high tooling costs, this isn't a reality. Prototyping is often done with other manufacturing methods and when the switch to production happens problems inevitably arise. When engineers do choose to prototype with mold tools they don't have the same ability to iterate on designs. Due to the costs, development budgets can't sustain countless iterations so the optimal design ends up becoming just good enough.
The Solution: Quick-Turn Injection Molded Auto Parts
What if engineers could harness the cost and speed of 3D printing while using the production process of injection molding? To an automotive engineer, this may seem like a crazy thought but leveraging Fortify printed injection mold tools has become a reality. Fortify's injection molding services enable engineers to mold prototype quantities of highly functional materials (yes we are talking about PEEK!) needed in electric vehicles and automotive parts in a matter of weeks at a fraction of the cost of a traditional steel mold tool.
The Benefits of Fortify's Injection Molded Car Parts 
Mold Tough Materials in Complex Geometries
First things first – in order to be of any use to the automotive industry, Fortify's mold tools need to be able to handle some of the most demanding polymers. Vehicles routinely use PBT, Nylon 66, PEEK, and Ultem along with their fiber-filled variants to stand up to the rigors of driving. These parts need to be strong enough to withstand the stresses of driving 70mph+, tough enough to last for hundreds of thousands of miles driven, and in many instances operate in temperatures in excess of 300F. With Digital Tooling Resin these materials are all a reality. Even for complex geometries requiring multiple side actions Fortify mold tools can produce quality parts at a fraction of the price. 
Reduce Injection Molding Costs by 70%
That is correct, Fortify's injection molding for automotive parts can lead to cost savings of 70% compared to traditional tooling. By leveraging Fortify's injection molding services, a typical cost for molded parts is $3k – $5k as opposed to $10k – $15k when using a steel tool. This is mainly due to the way in which Fortify manufactures their mold tools. Printing a mold tool on a FLUX ONE printer bypasses the need for expensive machining equipment or highly skilled mold makers. Taking the two most expensive parts of traditional mold making out of the picture enables massive cost savings that are passed on to the engineers.
Get EV Prototype Parts Faster
When mold makers and expensive machinery are removed from the equation, engineers are rewarded with massive time savings. Using Fortify's injection molding services, engineers are able to have parts in their hands in a couple of weeks rather than a couple of months. An added bonus is that the process is incredibly simple. Fortify can go from mold design to mold printing to molding functional parts in a few weeks' time. This speed from design to part enables engineers to iterate faster and lock in designs quicker than it takes to produce a single steel mold. 
See How Fortify Helps Speed Up the Product Development Process
On the surface, this may seem a little too good to be true. Spend a couple thousand dollars, wait a couple weeks and then functional injection molded parts arrive. To back up these claims, we put together this white paper covering how a variety of different industries are currently leveraging Fortify molded parts today. For the automotive industry specifically, we lean into how EV manufacturers can leverage Fortify's technology to produce electrical connectors with PBT-GF. As an added bonus we outline the materials and geometries that are the best fits for our process.
Download the white paper, "Quick Turn Injection Molded Parts Without Breaking the Bank" 
Get a Free Quote for Any EV Prototype Part
In all likelihood, while reading this article you have thought about one or two different parts that you need to be molded and you need them quick! Fortify is here to help, reach out to Fortify to request a quote for injection molded parts. Our application engineers are on standby ready to turn your designs into a functional reality.
Resources: